Powerful Vtiger CRM Hosting Solution
by IT-Solutions4You
With over 13 years' experience with Vtiger CRM Open Source,
we've created the perfect platform to host your Vtiger CRM system,
fully optimised and packed with plenty of benefits.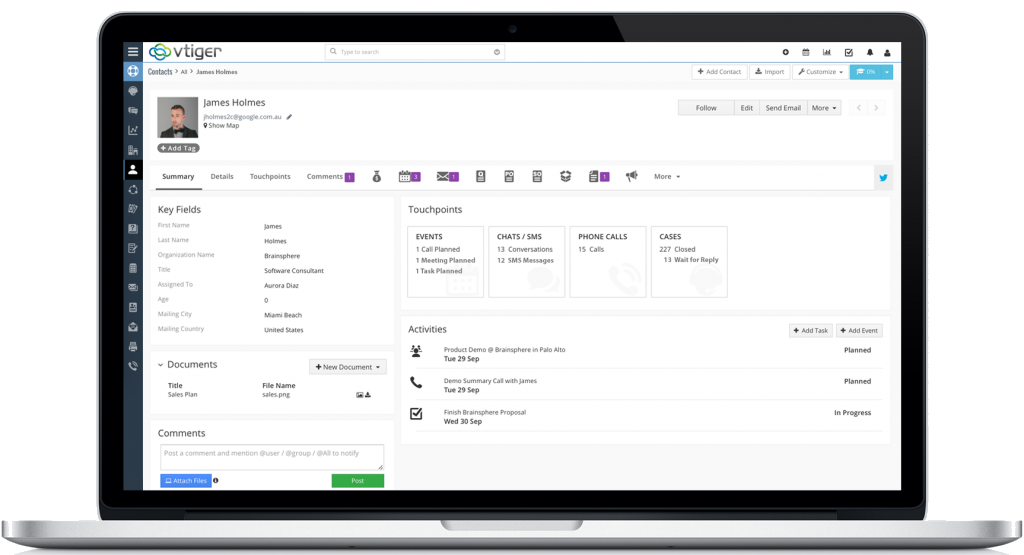 Get Started with Vtiger CRM
Choose Your Personal Vtiger Hosting Plan
Fully optimised Vtiger hosting with plenty of benefits
Private Cloud CRM Hosting
Private Cloud CRM Hostings ervers share one physical server but acts like multiple, separate servers. A Private Cloud CRM Hosting is a stepping stone between shared hosting and getting your own dedicated machine. Even though each private server instance shares hardware resources, they are allocated a dedicated slice of the computing resources. This is a safer and much more reliable option that keeps your site separate from the others while still maintaining affordability. Private Cloud Based Hosting refers to a fairly new hosting technology that lets individual servers work together so that it looks like one giant server
CRM hosting ( SaaS - Software as a Service)
The online version of CRM is an information system for registering customer relationships, invoices, orders designed primarily for small and medium-sized companies. We offer it as a "software as a service" platform (SaaS).
The advantage of an online CRM solution for the customer is:
Initial entry costs are significantly lower
Costs for building CRMs are known in advance without surprising increases in prices
The service includes regular upgrading and support of CRM software
Quickly deploy CRM to your business
Additional costs are reduced and the business can focus on doing business
SaaS umožňuje rozvoj systému bez ďalších nutných investície do hardwaru. Nasazením CRM ako SaaS riešením odpadajú investície do aplikačného softwarového balíka, ktorá sa odpisuje niekoľko rokov. Zákazník jednoducho využíva softvérovú funkcionalitu na diaľku ako službu. Platia sa len prevádzkové náklady, ktoré sa dajú jednoducho odpočítať. CRM aplikácia je účtovaná vo forme mesačného poplatku, alebo za prenájom celého alebo virtuálneho servera bez ohľadu na počet užívateľov.
SaaS was initially considered a potential hazard and potential risk. Many companies want to have their own data under internal control. Cloud CRM hosting provides secure servers, and data is better secure than custom customers can do in their own right.
The application hosting itself brings many benefits:
Cost savings for software, hardware, communication infrastructure, and equipment required for operation and operation. Investing in an expanded data center purchase, less investment in purchase, and less time needed for hardware selection and analytics are missing. Cloud CRM hosting brings savings in setup costs. With CRM hosting, the cost of the IT department is down. There are no costs and needs for new employees. It is not necessary to invest in new updates and to better plan the costs of the company, so it is possible to invest funds in other solutions and thus achieve faster growth of the company.
Our hosting partner is one of the most experienced providers. The hosting center is physically secured, electrical generators provide a continuous supply of electricity. The servers themselves are secured by an electronic security system and a camera system. Access to servers via secure access doors with biometric data access allows access only to authorized personnel. Access to the CRM server is secured through the firewall. The CRM application itself has its protection at the server application level.
Operation in non-stop mode (24/7) is provided by a professional data center. The sole owner of the data is the client.
The CRM application can be tested in real terms within 30 days free of charge, and then you decide whether our solution suits your needs. There is no need to invest large amounts of funds in the CRM solution and after a certain time you will find that the solution does not suit your needs. Try our CRM solution for free and find out if you really need it and want it.
The CRM solution enables a very fast deployment of the application into a sharper operation. There is no need to wait several months, weeks, days, even hours to implement the CRM system. CRMs are available in just a few minutes and you do not need to install any software. Only an internet connection and a standard internet browser (MS Internet Explorer / Mozilla Firefox) are required to work with the CRM system. All information is then available to the user anytime, anywhere.
Through the hosting solution, the company's productivity improves due to the more efficient work of your employees. Simple internet access enables faster and faster work at remote work locations. Every worker, wherever he is, works with up-to-date information. CRM is tailored for small and medium businesses that do not have to invest several tens of thousands of euros in CRM solution implementation. With this CRM solution, you will get CRM software that would be unrealistic due to your investment costs and improve your company's operations at minimal cost.