Easy modules management in one screen
See actual installed modules & their versions
Update & Install modules with one click
License management & expiration dates
Action menu for each module
Notifications icon at the top of the screen
Direct login to our E-Shop via Installer
Modules shop, get any extension in few clicks
Free to download
Available for Vtiger 6.x/7.x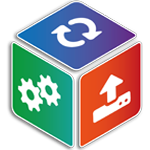 *after registration and login, you will see Installer available for download on the right side under Free Downloads section
Installation is simply and standard via Module manager.
First register to our eshop, after login you will see Installer available under Free Downloads section
Click on the Installer and download .zip file installation package
Open Module manager
Import and install .zip file
That's all

 Note: When you choose our Hosting Services, Installer will be automatically installed into your CRM hosting domain.
Modules management via Installer
Manage Installed Modules and Available Modules
Installed Modules – currently installed modules in CRM system

See your current versions, license keys, support end dates and perform the actions you need
If your support is ending you will see "Renew License" button under Actions
If your module is outdated, "Upgrade" button will appear under Actions and you can update your module to the latest version
"Settings" button will allow you perform additional actions like: upgrade, uninstall, license settings & more

Available modules – modules which you bought or are available for you in our e-shop
 Note: To see modules you have to log in to our e-shop with @email and password via  button (top right screen side in Installer module)

See list of available modules
Install modules with one click via "Install" button
Save a lot of time!
The Modules Shop tab can be used if you want to purchase our Modules or Bundle Packages.
In the tab you see all modules which are available for you and you don't own them yet
Modules which you already own aren't shown in the Modules Shop tab