Mobile App for Vtiger CRM
View and manage your Vtiger CRM activities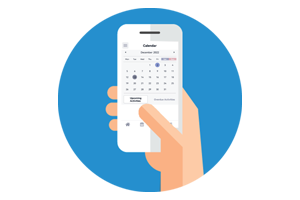 Access to your system wherever you are via a mobile application
Easy navigation in Vtiger CRM
View Records, Fields, Comments & more
View and navigate trough Related records
Quick create records
Edit and Delete records
List view filters
Dashboard with Calendar Tasks and Events
Login screen with storage of multiple domains
Invite users to the application via Vtiger
Android and iOS (soon) compatible
PDF Maker export to PDF compatible
Vtiger 7.x compatibility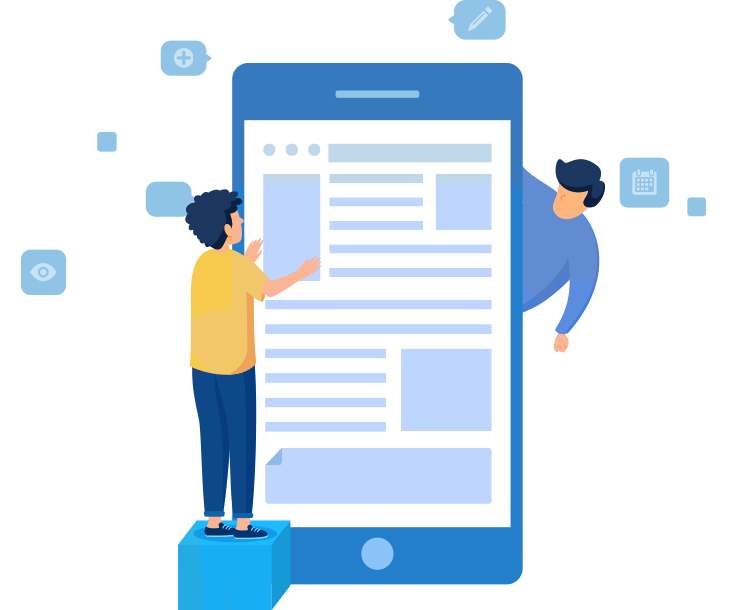 Interactive Calendar dashboard:
Access a comprehensive Dashboard that provides an overview of your:
Calendar Tasks
Events
Upcoming Activities
Overdue Activities
other Key metrics
Helping you stay organized and on top of your CRM activities. With the calendar integration, you can easily add, edit, or delete tasks and events directly from the app. This means you can efficiently manage your schedule and keep track of your commitments while on the move.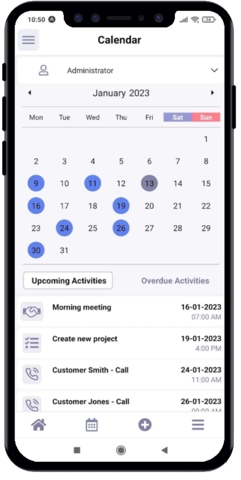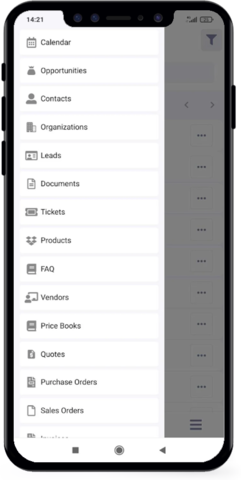 Menu structure is designed to provide a seamless experience, ensuring that you can access the desired Modules & Extension quickly and efficiently.
Whether you need to view records, access settings, or perform various tasks, the app's easy menu navigation makes it simple to find what you're looking for, enhancing your overall user experience.

Navigation buttons – Home, Calendar, Create, and Actions – are strategically positioned within the app, ensuring easy access to essential features and enhancing your overall experience while using the Mobile App for Vtiger CRM.
Detailed overview of records
Through the app's intuitive interface, you can access detailed information about your records, including a:
Summary view that provides a concise overview of key details.
Detail view which presents a comprehensive display of all relevant information, such as contact details, activity history, and associated data from related modules.
Via More option you can access additional Related modules, aswell Updates and Comments, enabling you to stay updated on the latest interactions, collaborate with team members, and maintain a complete record history.
With this functionality, the app empowers you to have a thorough and detailed understanding of your CRM records, facilitating informed decision-making and efficient management of your customer relationships.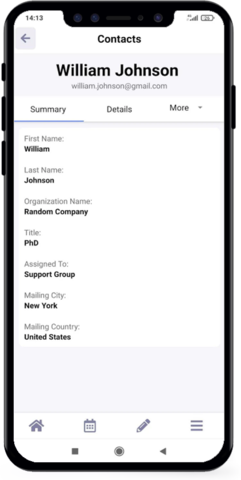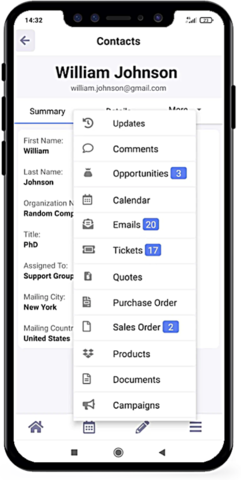 Related records, Updates & Comments
Related records can be checked easily through the More button included in each record view within the Vtiger CRM phone app.
By tapping on the More button, you can effortlessly navigate through the associated modules, which display the number of actual records. Additionally, you can perform various actions, such as editing, deleting, and more, on these Related records.
Updates does a real-time updates within the Vtiger CRM. Stay informed about changes, progress, and developments in your CRM data, ensuring you have the latest information at your fingertips.
Comments engage in seamless communication and collaboration by adding comments directly within the app or Vtiger CRM. Stay connected with team members, provide status updates, share insights, and track discussions related to your CRM records.
PDF Maker extension for Vtiger is a very powerful Vtiger extension for create Business Proposals, Contracts, Cases, Project activities documents and of course different kind of Quotes, Sales Order, Purchase Order, Invoices and much more.
With PDF Maker installed on your Vtiger CRM system, you can utilize the Export to PDF feature via the Mobile App.
Simply select the record you wish to export, and then choose the desired PDF Maker template. This seamless operation empowers you to generate PDF documents with customized templates directly from the convenience of your mobile device.
The exported PDF file will be saved on your mobile device, typically in the 'Downloaded files' folder, ensuring easy access to the generated PDF documents.
Price of Mobile App for Vtiger CRM  
With membership/subscription you will have access to the latest versions of extension for Vtiger version 7.x (and higher). Mobile App will stop working and synchronizing if you do not renew the subscription. Duration of the subscription is monthly.
Installation & Validation is via our Free Extension Installer
For detailed guide how to validate and install our modules visit guide below:
Try Mobile App for Vtiger CRM (14 days)